Grave site grooming and care for Blair County, Pennsylvania
Cemetery plot maintenance, grooming, and beautification services.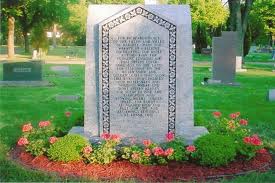 We have all buried a love one at one time or another throughout the journey of life. And to continue to show love, devotion, and respect for the lost, keeping up with grave site cleaning, flowers, and overall maintenance is a must. However, often people relocate and are to far from the area to return and perform routine maintenance. Health problems arise, as well as age and you just are not able to keep on top of the tasks needed.
Cemetery maintenances services include the following:
Lawn mowing.
Weed eating / line trimming.
Weed spray / removal / control.
Flower planting.
Small shrub planting.
Pruning.
Mulching - wood and decorative stone.
Bronze restoration.
Stone cleaning.
Solar powered lighting installation.
Grass and flower watering.
New sod and seed.
Winter maintenance.
Pictures.
We will provide you with a picture via Email or Postal Mail after each service so you know the service has exceeded your expectations.
We will treat your grave-site(s) with the upmost respect and devotion possible. We will care for them as if the site belonged to one of our own family members.