Snow Removal and Ice Management
Commercial and Residential Winter Services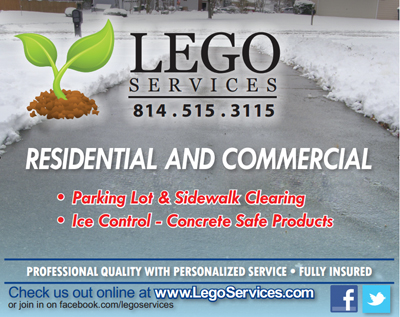 Lego Services LLC provides Professional Snow and Ice Management Services throughout the entire Blair County Region including Altoona, Bellwood, Tyrone and Hollidaysburg.
We offer the most flexibility out of all Snow Removal Companies in the area. You choose when when our Services are needed, the quality of salt, and what Time Your Property Needs Cleaned.
Our Snow Services Advantage
The choice between low end Rock Salt and high quality Calcium Chloride ice melts to protect your concrete.
Having your property cleaned and ready to go on your schedule, not the snow removal companies.
Neat, professional appearance.
You pick when we perform the service. Anything over an inch, two inches, etc.
Pay only whenever your property is serviced, not an up front contract.
24/7 availability for emergency situations.
Trained and Experienced snow professionals who put safety first.
State of the art, well maintained equipment - avoid no-shows because of broke down equipment.
The team that does not leave your stranded, ever.
Safety Is Our Number One Priority
Lego Services is Fully Insured and Licensed as required by law. Don't make a mistake, trust the safety of your customers to a legal professional.