Commercial and Residential Mulch Services
Premier Mulch Supplier to the Altoona Area
As a local family owned business Lego Services provides superior Mulch Delivery and Installation service for Residential and Commercial use.
Wide Selection of Mulch Products
Hemlock - Premium Mulch, You Need To See This!
Double Shredded Dyed Black Bark
Double Shredded Dyed Brown Bark
Double Shredded Dyed Red Bark
Fine Shredded No Dye Bark
Dyed Red Wood Chips
Single Shredded Bark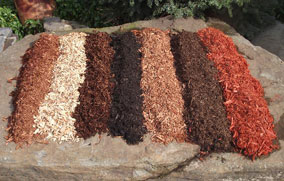 Blair County Mulch Delivery Information & Pricing
Lego Services LLC not only creates, maintains and refreshes your Mulch Landscapes but we also Deliver Mulch Products. With flexible hours that No Other Mulch Delivery Company Offers we are sure to be available on your schedule, not ours. Evening and Sunday deliveries are available. Contact us for pricing and information.
Prices do vary in various situations, time schedules and locations. Be sure to contact us for exact pricing information.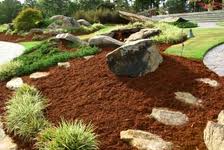 All Mulching Installation Services include Cleaning, Weeding, and Redefining of the existing bed.
Interested in Installing a New Bed? We remove the existing turf, spray the area for grass and weeds, lay Landscape Fabric, and create a new Edge for the bed.
Mulch Provides Much More Than Just a Beautiful Appearance.
When applied correctly, mulch has the following beneficial effects on plants and soil.
Mulch helps prevent loss of water from the soil by evaporation.
Reduces the growth of weeds, when the mulch material itself is weed-free and applied deeply enough to prevent weed germination or to smother existing weeds.
Helps keep the soil cooler in the summer and warmer in the winter, thus maintaining a more even soil temperature.
Mulch prevents soil splashing, which not only stops erosion but keeps soil-borne diseases from splashing up onto the plants.
Organic Mulch improves the soil structure. As the mulch decays, the material becomes topsoil. Decaying mulch also adds nutrients to the soil.
Prevents crusting of the soil surface, thus improving the absorption and movement of water into the soil.
Helps prevent the trunks of trees and shrubs from damage by lawn equipment.
Adds to the beauty of the landscape by providing a cover of uniform color and interesting texture to the surface.
Mulched plants have more roots than plants that are not mulched, because mulched plants will produce additional roots in the mulch that surrounds them.
How Much Mulch Do You Need?
Do you know you need mulch, just not sure how much you need? Don't worry about calling someone, just take a few measurements and check out our Mulch Calculator below. We designed it to be quick, easy and accurate. Check it out!
Mulch Calculator - Online Mulch Calculator.