Gutter Cleaning Services
Water trapped in gutters can cause major damage to your roof, walls and even your foundation. Clogged gutters are the number one cause of basement water problems and cracked foundations. Maintaining clean gutters with regular cleaning helps save you money in the long run.
Our Quality Approach to Gutter Cleaning provides our customers with the assurance of a professional job every time. We ensure a high level of service and ensure drainage issues are resolved before final invoicing. We clear all debris from the gutter and surrounding roof areas to ensure the gutter remains clean for as long as possible.
Why Clean Your Gutters?
Gutters are designed to control water flow and direct it away from your home, preventing flooded basements, cracked foundations, insect issues, and rotten wood.
A regular scheduled Gutter Maintenance program is the one sure way to prevent these costly damages from occurring. Lego Services LLC provides Annual and Semi-Annual Gutter Cleaning Maintenance Schedules.
We are your Gutter Cleaning Professionals
With top of the line equipment and years of experience be sure to make us your 1st choice for gutter cleaning. From leaf buildup, shingle debris, vegetation growth and other unwanted buildups we have the tools to clean and get your gutters flowing properly again. Once your gutters are cleaned we blow off your entire roof and pass over the gutters to ensure the smallest debris are removed. We follow this up by rushing water through the gutters and drain pipes to ensure water is flowing where it needs to and leaving your down spouts properly.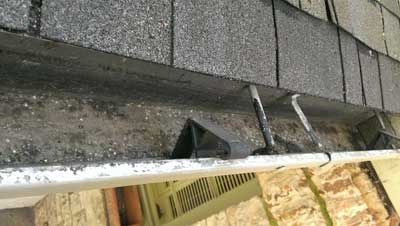 Gutter Guard Installations
We also Install Gutter Guards including mesh protection. Gutter guards stop most debris from ever getting inside of your gutter. Contact us today for a FREE estimate. You won't be disappointed.
Plastic Guards
Aluminum Guards
Mesh Guards
PVC Mesh Guards
Debris Cleared, Water Flow Guarantee
We take pride in every service we perform. If your gutters are not correct after service, you won't owe us anything. Lego Services LLC guarantees clean flowing gutters after each service.