Leaf removal and cleanup services
Altoona, Hollidaysburg, Duncansville, Roaring Spring, Bellwood, Tipton, and Tyrone.
Spring or Fall, Lego Services has the equipment to get your property looking as beautiful as it should.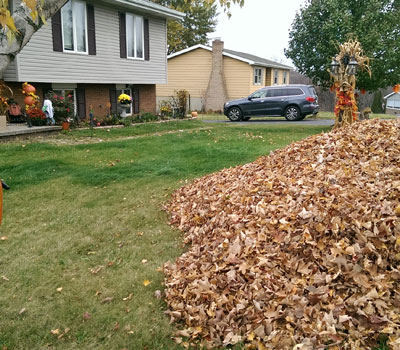 Leaf mulching
Leaf Mulching is an affordable, organic, and extremely lawn friendly method for leaf removal. Affordable because it is the same charge as a basic lawn care service with an included small up charge for blowing leafs from un-reachable area (shrubs, fences, etc.). Organic and Lawn Friendly because returning mulched leafs into your soil provides iron rich nutrients that your lawns root system loves. Providing stronger roots returns a thicker, greener lawn.
Leaf bagging and removal
For customers whom just want rid of the leafs, removed from your property and not needing to be dealt with again, we also offer a full removal. Prices are based on conditions, call today for a FREE estimate.
Curb collections and compost piles
In some city locations, a free leaf pick up and recycling service is available. Lego Services can relocate all of the leafs on your property to a designated curb/street area so the city can easily and quickly remove the leaf pile.
We are also more than happy to help with the creation or addition to existing compost piles. Contact us today to discuss this option!