Tree and Shrub Care Services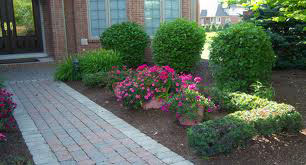 Shrub and Bush Trimming
Lego Services provides professional, quick, and affordable Bush and Shrub Trimming Services. Whether it is a small trim job, or if your property is overwhelmed with growth, we have the equipment to turn your property around. Full clipping removal and landscape bed cleaning is included with every trimming estimate. Each employee is trained and experienced in various methods of shaping the many different kinds of shrubs and giving your property that look you have been searching for.
Shrub and Bush Restoration
Lego Services does not provide pesticide spraying due to the harmful effect they can cause on people, house pets, and the environment. We tackle restoration with different tactics than other lawn care companies. Your bushes are natural, so lets cure them naturally.
Tree Pruning Services
Lego Services provides Full Tree and Shrub Pruning Services. Dead areas on your bushes can be due to a number of reasons. The main is that the bush has too many branches, and not all of them can reach the sunlight. Other reasons are due to disease and fungus. Either way, they need to be removed. Cutting out the dead branches and stems from your bushes and shrubs gives the surviving branches room to breath, and may help prevent the disease from spreading into the remaining branches. Consider it as cutting out an infection.
Mulch Benefits Tree Health
Organic, natural mulches provide a number of benefits for your bushes. They provide natural nutrients that you bush will absorb to grow stronger. They also provide a much needed 'blanket' that protects the roots during the cold fall and winter months. A strong root system almost always guarantees a beautiful bush.
Transplanting Bushes and Small Trees
Every shrub/bush requires its own amount of sunlight, shade, and water. Depending on the kind of bush you have, placing it in an area to sunny, or even to shady, will result in the ultimate death of the plant. Lego Services has great relationships with local Garden Centers to learn and make sure we use the adequate amount of sunlight, water, and shade for proper growth and survival. We will work with you to relocate your bush to the proper area in your lawn to ensure future benefits.
Brush and Land Clearing
Brush can become a giant aggravation for many home owners. If you are looking to Extend Your Property, give it a fresh new look, trim the brush back to where it used to be, or even get a pile of your own trimmings removed, call Lego Services today. We offer an Affordable Brush Removal Service and we have the professional equipment to make brush removal as easy as cut and remove.
Tree Removal
Lego Services does not directly provide Tree Removal Services. However we can help you get the job done. Contact us for more information.
Stump Removal and Grinding
Contact us for more information regarding Stump Removal.